Poll
Naruto = Good Or Bad Singer?!
Good

54%

[ 29 ]

Bad

13%

[ 7 ]

I don't know........

9%

[ 5 ]

(I Don't wanna hear him sing............)

19%

[ 10 ]

(WTF?! What question is this?!)

6%

[ 3 ]
Total Votes : 54
Jutsu Of The Week
Baika No Jutsu (Multi-Size Technique)
Updated weekly!
Character Use: Akimichi Choji, Akimichi Chouza
Rank: -
Note: Secret Clan Technique
Range: -
Type: Supplementary
Baika no Jutsu is a Ninjutsu technique used by the Akimichi clan. Using this technique the clan member can alter the size of their body. Highly skilled clan members can alter the size of their body to a large scale with little trouble. When the clan member changes the size of their body, it uses up body calories. Because of that the clan members will usually be seen eating high calorie diets.
Naruto Character of the Week
Naruto Uzumaki is the Naruto Character of the Week.
First Manga Appearance: Chapter 1
First Anime Appearance: Naruto Episode 1
Name Meaning: Uzumaki="Whirlpool", Naruto=A steamed fish-paste cake, also a maelstrom
Hidden Village: Leaf Village
Rank: Genin - Team 7
Age: 16
Jounin Master: Hatake Kakashi
Signature Abilities: Kage Bunshin no Jutsu, Oiroke no Jutsu
Notable Features: Has crush on Haruno Sakura, Loves ramen, Container for the Kyuubi demon
A Genin from the village of Konoha, Uzumaki Naruto is the container for the Kyuubi Demon Fox. Shortly after he was born, the Kyuubi attacked the village. To stop the demon the Fourth Hokage was forced to imprison it into the body of the young baby Naruto. As Naruto grew up the adults in Leaf Village saw Naruto as the demon fox itself. This feeling was passed on to their children who also looked down on Naruto. Growing up Naruto did not have anyone who really cared him. Because of this Naruto has grown up seeking to have everyone recognize him as being a skilled ninja. To that end his goal is to surpass the Hokage.
Though he did not have many friends early in life, Naruto gained many in his development as a ninja. His teammates Sakura and Kakashi still remain close to Naruto and he has grown close to the other ninja who he became Genin with. Naruto was a boy without clear direction until the Sannin Jiraiya entered his life to help him control the Kyuubi to his own needs. With that help, Naruto has been able to push his power to new heights, of recent though this power has potentially gotten the better of him.

Naruto has remained a Genin due to his travels outside of Konoha with Jiraiya. His friends have advanced while he has remained stuck. Do not let this fool you though. While his rank may be low, his skill level remains high and his drive to one day become Hokage still remains strong
More Affiliates
Messages from the Admins
If you encounter any problems or if you just need help, PM any of our wonderful Admins! -Madara

-
Member of the Week
(Is updated WEEKLY-Idea from Naruto-) Zazuro Xanuzuro Uchiha is our Member of the Week.
Naruto News
-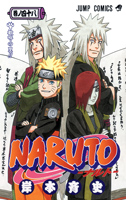 -Volume 48 Cover! (NEW!!)-November 24th: NO Naruto episode/movie this week!!! -November 26/27th: -Naruto Manga Chapter 473 releases Thursday/Friday! -November 26th: Naruto Shippuden Anime 137:Amaterasu! releases Thursday in English Subs!
After three years....

Fri Dec 14, 2012 5:31 am by Naruto
As the NWF's creator and founder, shall get the forum roleplay moving once again...!

However, before that happens - we'll be doing a huge fixing and cleaning of the forums.

No worries, all old RP topics (complete and incomplete) will stay. Only ones that will be cleaning is the Manga section throughout of broken images and so on.

After some revamping and changes, all members will receive an e-mail on the forum's upbringing once again.

Thank you

[ Full reading ]
Comments: 3
NEW PEOPLE

Mon Mar 14, 2011 8:03 pm by Narutu
If your new here and joined. You should at least post! I mean common! If u join then post, if not why'd u join?

Just tryin to make this place fun and alive agian.

Comments: 5
Happy Easter!!!

Sun Apr 12, 2009 6:44 pm by Madara
I just posted here to just say "Happy Easter everybody!!!"


Comments: 3
New RolePlay Rules [Please Read]

Wed Jan 06, 2010 7:52 pm by Naruto
Romance in RolePlay

Now I see some users having their characters dating somone and then the characters fall in love. Well, now your characters can go futher and they can get married! If your RP characters want a child, you can just post that you both agree to have a child and then you both go to bed. Or something like that. No saying 'sex' alot in the post or mentioning anything beyond PG-13. Later on your characters wife will have to start posting she is pregnant. So which means the female …

[ Full reading ]
Comments: 0
Happy 1 Year Anniversary!!

Sun Dec 13, 2009 6:39 pm by Zazuro Xanuzuro Uchiha
Happy Birthday Naruto World Forever! I know I am 1 day early, but ha.

Happy 1-year Anniversary to everyone who had joined before the day of tomorrow, all of you are legends! XD



Signed,

Zazuro Xanuzuro Uchiha

(Post here and get your name signed here!!

]


Comments: 4
New NWF Banner Contest!!

Wed Dec 30, 2009 7:50 pm by Zazuro Xanuzuro Uchiha
This is all you gotta do.

Make a new cool banner that would fit nicely with this site.

Banner Includes:


-Akatsuki or something evil in the background
-"Naruto World Forever" site name somewhere on the banner.
-Not really big or small banner


Prizes:

Coming Soon!


Start a'

[ Full reading ]
Comments: 0
[NARUTO SHIPPUDEN] Sasuke vs. Itachi

Sat Oct 31, 2009 11:55 am by Naruto.com



Sasuke vs. Itachi

Next month on naruto.com, we're featuring a special double anime episode as Sasuke faces his older brother Itachi in a winner-take-all situation. Tune in on Nov. 26 for this special and in the meantime, vote for your favorite Sasuke episodes!



The hit parade of Naruto Shippuden on DVD goes on, as Shippuden vol. 2 (episodes 5-

is out this week, and the Naruto Shippuden Movie DVD hits …

[ Full reading ]
Comments: 2
Vote for Your Favorite Sasuke Episodes

Sat Oct 31, 2009 12:18 pm by Naruto.com


We've just finished up our Jiraiya anime special, but another is on the horizon for November -- a pivotal two-parter focusing on our favorite intense ninja, Sasuke.

As we get ready for the special, mosey on over to the discussion forum where we have a poll about fans' favorite Sasuke episodes. Your votes will determine which episodes we feature, so exercise your democratic rights!


Comments: 0
Member of the Week [Portal widget]

Sun Sep 13, 2009 4:42 pm by Naruto
A brand new Portal widget "Member of the Week" is added on the Portal page, representing the fame Member of the Week.

Certain amount of points was given to the member who makes it on the Member of the Week.

The widegt is updated weekly on Sundays.

Zazuro Xanuzuro Uchiha earned the very 1st hot spot of being "Member of the Week".

[ Full reading ]
Comments: 2
Naruto Shippuden to air on Disney XD Channel

Sun Sep 13, 2009 2:16 pm by Naruto
Starting in October on Disney XD or Disney XDHD Channel.

VIZ teams with DisneyXD.



!Important Notice: DisneyXD have nothing to do with editing. The editing is all on VIZ's hands.


Comments: 1
Chuunin Exams

Mon Apr 06, 2009 4:05 pm by Utashi Hatake
Are we ever going to have a chuunin exams on here or not? Just asking because we have not had one yet.


Comments: 5
New theme!!

Tue Aug 18, 2009 8:10 pm by Madara
We are proud to announce that Naruto World Forever has a new theme (Akatsuki)!!!!!!! Enjoy!!!!!


Comments: 1
Naruto World's ad video!

Fri Aug 07, 2009 2:30 pm by Zazuro Xanuzuro Uchiha
Naruto World forever! forum site now get their very own adversiting video to adversite this site on!
Here's the video! Hope you like it.


Just recently made it like 2 - 3 days ago.

[ Full reading ]
Comments: 1
Start Over........

Thu Jul 02, 2009 12:25 pm by Zazuro Xanuzuro Uchiha
Okay. i want to start things over. Our admin, Naruto worked hard on this site and gathered a lot of people on here to have fun and RolePlay and chat and stuff.

Now, look at it, it looks like it's been adbandoned, not much people come here. I wanted this site to just be popular in every way.

i want to earn and get our members back and start over again like it was long time ago.

People on here should come back and have fun like before.

Here's the legend that people helped make …

[ Full reading ]
Comments: 10
Save Naruto on Cartoon Network!!

Sat Apr 18, 2009 1:16 pm by Zazuro Xanuzuro Uchiha
Naruto CN/English Naruto fans (and Naruto fans in general),

Awhile ago you may have noticed that Cartoon Network pulled Naruto off the air after only eleven episodes were left of the series. For a reason that is unknown CN is refusing to give the fans any word of when the series will be back if it ever will. Many dates have been going around the fanbase claiming when the new episodes would be broadcast, but all of them proved to be false.
The eleven episodes that remain may only be fillers …

[ Full reading ]
Comments: 2
Top 10 banners

Mon Feb 16, 2009 11:51 am by Naruto
Okay here we go on the top 10 banners..again.



Spoiler:


[ Full reading ]
Comments: 2
New forum updates!

Thu Mar 19, 2009 5:40 pm by Naruto
Look around the forums well and you will see some new updates!!!


1.
The Memberlist! Avatars are added my the names!






2. Your Profiles! -Advance Profile!- Make sure to edit and fix your profiles today!
When you click on "Profiles" under your username account you will see something like this:

Profile -> Information: The 1/3 top- Registration Information



[ Full reading ]
Comments: 4
New Promotion!

Sat Apr 25, 2009 7:20 pm by Naruto
We have a promotion for Hyabusa Ryotoku! Congratulations. If any questions about the Moderation Tools or anything, we will apprecaite that you'll ask us!


Comments: 7
New Name

Tue Apr 07, 2009 9:56 am by Utashi Hatake
I have changed my name to Utashi Hatake instead just Utashi Ok.
Comments: 0
Added Sections and more.

Fri Mar 13, 2009 2:25 pm by Naruto
I have many things i have added...

Sections:

Added...

Writing
Drawings & Paintings
Art Edits

Under Arts sections and more under Dicussions and Help


Leaf Museum
Cloud Museum
Mist Museum
Sand Museum
Rock Museum

Under the Five Great Countries


Under RolePlay category


Under Battles categories


Under Ninja headquarters





Ninja Profile:



Clan Name (Of your character's clan)
Character Age (Your …


[ Full reading ]
Comments: 6
Who is online?
In total there are 9 users online :: 0 Registered, 0 Hidden and 9 Guests :: 1 Bot

None

Most users ever online was 85 on Wed Jun 01, 2011 10:46 am

Statistics
We have 228 registered users
The newest registered user is kikodonakreka

Our users have posted a total of 3192 messages in 942 subjects

Manga & Books
Newest Naruto Cover:
VOLUME 47!!!!!!!

New Jpn. Chapter- Thurs./Fri. (Weekly)-----English Vol. 46- 10/06/2009-------English Vol. 47 - 12/7/2009------Naruto Vol. 48- 2/2/10------Naruto Vol. 49- 5/4/10
Naruto World's ad video
Naruto World forever! forum site now have their very own video to adversite this site! All special thanks to all members here and great RPers people.